Corporate gifts
Give the Gift of Chocolate!
Our enchanting gourmet gifts will thrill your staff and clients! Give them a present to remember!
Whether a golden chest bursting with handmade chocolates, a basket packed with our most popular pleasures, or a delightful Christmas decoration, whether a grand gesture or a small treat, you'll find gifts for every budget!
To order your Christmas gifts, please fill out the order form Noël 2013 and return it to us at Info@lacabossedor.com or by fax to (450) 464-9933. To read more about our magnificent Christmas gifts, see: Dépliant Corpo 2013

Thanks and happy holidays to you and your team!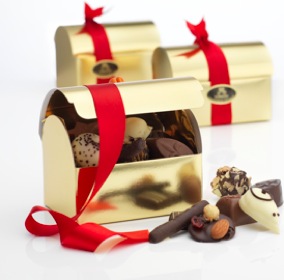 Box of Chocolates
Our smallest box is a golden pyramid containing a single chocolate – our speciality: the praline heart! Soft and smooth, its fine texture will melt the toughest! Its pyramid shape reminds us of the beautiful mountain we sit beneath.
Our boxes, in the purest Belgian tradition, contain an assortment of delicious handmade chocolates, combining traditional recipes and modern tastes! Let us create a divine collection for you, or compose one yourself!
Christmas Log
A delightful chocolate log filled with an assortment of handmade chocolates.
Gift Basket
To offer a gift basket is to offer a magical taste experience! With an assortment of treats and delicacies to tickle the palate, our products range includes handmade chocolates, biscuits, candies, fudge and more! Easily choose from one of our pre-arranged baskets or create your own. Guaranteed to make you and your recipient happy!
Tiered Box Cake
Whatever your event or celebration, make one of our magnificent tiered box cakes the centre-piece! Each box contains two delicious handmade chocolates and can be personalised with transparent labels. Choose among our ribbons or floral centres, or bring your own flowers or arrangement for the perfect display!
Personalisation of your Gifts
It's possible, for a small charge, for us to print your logo on a label and attach it to your boxes or gift baskets, or on our charming seasonal chocolate bars (Santa, angel, soldier).
We can add personal cards, and brochures in our baskets, too. Let us know how we can help!